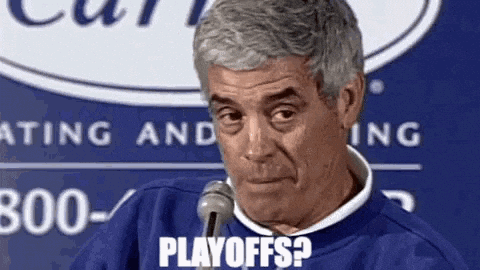 With 11 weeks in the books, we have come full circle back to divisional play. Just 3 games remain, but 11 teams still have hopes to break into the dance. Lets start with the clinching scenarios for this week before diving into the odds:
Week 12 Clinching Scenarios
Frank The Tank can clinch the EAST with:

a WIN AND
2 Feets In LOSS

Frank The Tank can clinch at least a WILD CARD with:

a WIN AND
a MiddleOfSpineHurts LOSS AND
a Koo Kupp Klan LOSS

Dear Leader can clinch at least a WILD CARD with:

a WIN OR
a 2Feets In LOSS AND
Brainbusters LOSS AND
MiddleOfSPineHurts LOSS AND
Koo Kupp Klan LOSS
Additionally, the Commish has clinched at least a tie for a wild card spot (total points would decide), and Frank and Meade can do the same with a win this week, regardless of what else happens around The League.
Playoff Odds
At the top, we should mention that 9 wins will guarantee a postseason spot. That means that if you currently have 6 or more wins, you control your own playoff destiny. 8 teams are currently at that level. 3 teams (Mavens, I'll Show You Tough, Feed Me MOORE) are still alive but will need help. Only Olsen is outright eliminated.
It is possible, but extremely unlikely that a 6 win team can sneak into one of the wild card spots. A minimum of 8 wins will be needed to win the East and Central, and a minimum of 7 wins will be needed to win the West.
One final note, "Clinch %" below means the odds that a team will clinch a playoff spot without a point tiebreaker deciding it, and Tie % means the odds that a team ends up tied for a playoff spot with a points tiebreaker deciding it. Obviously, the more points you have the better your odds of succeeding in that tiebreaker scenario. Tie or Better % means exactly that, percentage chance you either clinch or tie for a playoff spot. Miss % is the odds you are eliminated outright without a chance to win a points tiebreaker.
Overall Odds
East Division
Defending champ Frank The Tank is in a commanding position as we enter the final 3 weeks of divisional play. While he holds only a 1 game lead over Jacky G and BJC and a 2 game lead over the Maven, his 2 game cushion in divisional record (and 300 point cushion over Ant) effectively means he will win any tie at the top of the division standings. For him to not win the division, his challengers will not just have to catch him, but pass him. In 75% of scenarios, he winds up winning the division.
Jacky G and Brian aren't out of the mix just yet, but as mentioned they will need to pass Frank in the standings and that means winning out alone won't guarantee them the division. 3% of the scenarios also see both of them tying at 8-6, with Frank losing out and points breaking the tie at the top. Jack currently has the advantage there.
Finally, the Maven ain't dead yet! If he wins out and Frank loses out, he would take the East. That's pretty much his only chance however given they points discrepancy.
Central Division
Out in the Central the odds are stacked a bit differently. Even though The Commish currently has a 1 game lead over Meade and a 2 game lead over Cody, his 1-2 record inside the division means that he will have to maintain that lead in order to win the Central. While he does so in 57% of scenarios, that's still little better than coin flip odds.
Meade has a slightly less than 1/3 chance of making up the deficit and claiming the Central crown, but he does control his own destiny. However, if Cody can fight his way to a tie at the top, he would win the division based on division record, which happens in about 10% of scenarios.
Jay has been eliminated from the division race.
West Division
Marky Mark and Nicky Diamonds are tied for the lead out in the West, with a 2 game cushion over Vaf who is fighting on for dear life, but its Mark with the advantage at the moment given his 3-0 division record. All he needs to do is force at least a tie at the top of the division and he'll win it without having it come down to points.
Nick will need to outpace Mark to win the division, but he also controls his own destiny in that regard. There is a 1 in 100 chance that Vaf can win out, Mark loses out, and Vaf and Nick wind up tied at 7-7 with points making the difference. Vaf would need to make up over 120 points on Diamonds to win there, but hey, it's possible!
Wild Card
As usual, the wild card spots are where things start getting, well, wild. The 3 division winners will take the top 3 seeds (with the top 2 of them getting the bye) and the next best 3 teams will take the 3 wild cards.
The Commish not winning the division and being in the wild card race is not ideal for anyone else competing for the wild card. Dear Leader has already clinched at least a tie of the last wild card spot and currently has a 92 point advantage. He wins a wild card spot outright 91% of the time he doesn't win the division and is in a tie in the rest. He also has matchups against 3 of the other wild card challengers. Basically, if you're not playing against the Commish you're rooting for him.
The same is largely true for Frank, but not as clear cut. As Frank is a huge favorite to win the division, generally the wild card contestants should be rooting for him. However, for him to lose the division it would mean a pretty big collapse. In the 25% of scenarios where Frank doesn't win the division, he fails to clinch a wild card outright in 60% of them. Basically, if Frank is thinking wild card instead of division, it means he's probably been bad enough to let other wild card contestants jump or catch him. Unless you're in his division you should still be rooting for him, but it might not kill you if he loses.
Mark is in a similar situation to Frank but worse, where if he doesn't win the division he's in danger of dropping out of the playoff picture entirely. In the 37% chance that Mark doesn't win the West, he did poorly enough that he fails to clinch a fallback wild card spot outright in 95% of those scenarios, and fails to clinch at least a tie in about 60% of those scenarios. Rooting against Marky Mark if you're hunting for a wild card spot is probably your best bet.
Meade is currently in possession of the 4 seed and the first wild card spot, with a 1 game cushion on the challengers chomping at his heels. Even if he does fail to win the division, he has a 72% chance of maintaining that lead. However, in 24% of the scenarios where Meade winds up tied for the last wild card spot, his points total figures to hold him back significantly.
Jacky G is one of 4 (5 if you count Mark) teams currently tied for a wild card spot at 6-5. He leads all those teams (except Mark) in points, meaning he is currently the 5 seed, however the lead is narrow over Nick and Cody. With the division setting up tough, his best bet to make the postseason is the wild card, which he clinches 36% of the time he doesn't win the division. Another 35% of the time, he winds up in a tie for the final wild card, where he is well positioned to win a spot on points, as he currently is now.
Nicky Diamonds, tied with Mark atop the West but currently holding the last wild card spot, is in a similar situation to Mark where if he doesn't manage to win the division means he most likely failed to win the division outright. He still clinches at least a tie in 56% of those scenarios however.
Brian's odds are exactly the same as Jack's, on the surface at least. Where he fails to win the division he still manages to clinch a wild card outright 36% of the time. However in the 35% of the time he ends up tied, he'll have a bit more ground to make up in points given he currently sits 60 points behind the last wild card spot.
The Meat Mavens sit a game behind the 4 teams ahead of them for the wild card spot, which is of course a lot to overcome with only 3 games remaining and he has only a 7% chance to win a spot outright. While he has a 20% chance to tie for a spot, that number is massively deceiving given his current point deficit.
And finally, Jay and Vaf have near identical chances to clinch a spot outright, which is to say not much of a chance at all. Less than 1/10th of 1% actually. However, there is still a slim but not insane chance that they can pull off a tie for the last spot. Jay would be well positioned to fight for a points tiebreaker if it came down to that. Vaf not so much, but it's not completely impossible.